In a world evolving every second, how do you ensure your nonprofit website stays modern and relevant?
It all starts with a simple website redesign.
Below are a few of our favorite nonprofits that we felt could use some design love. We took the liberty to apply some of our best design practices, fundraising tips and layout methodologies to create some beautiful new mockups. You may have seen these on our Instagram already, but here's a fresh recap of some recent redesigns.
---
1.) Heart of a Hero
Heart of a Hero is a nonprofit organization who represents their mission by dressing up as Spider-Man and Spider-Gwen and bringing joy to children in need. We absolutely love what Heart of a Hero is doing to inspire, motivate and empower children who need it most.
When redesigning their website, we wanted to:
Clearly showcase what Heart Of a Hero is all about with a bold impact statement up top
Make it fun, heroic and colorful
Provide easy and fun ways to make a difference with an embeddable donation form
Showcase all the ways to get involved & help out little heroes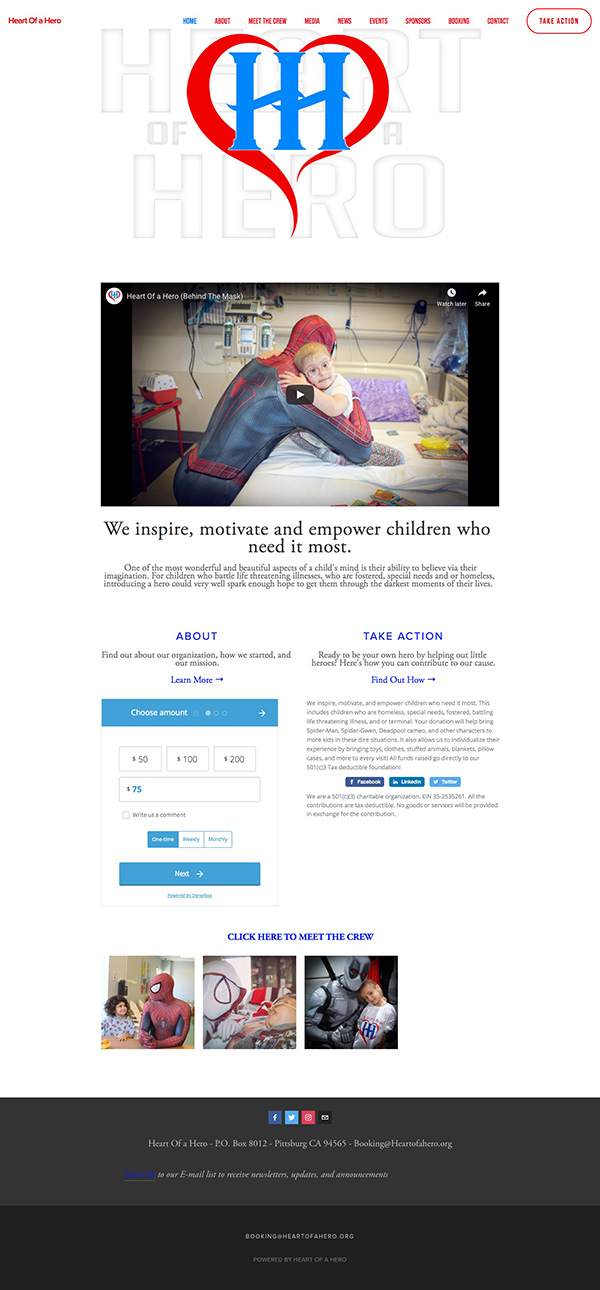 ---
2.) High Fives Foundation
High Fives Foundation focuses on preventing life-changing injuries and provides resources and hope if they happen. Being outdoor sports enthusiasts ourselves, we were thrilled to learn what High Fives Foundation is doing to keep our outdoor sports community safe, so we put our creativity to the test to give their home page a fresh makeover.
When designing their nonprofit website, we wanted to:
Clearly showcase what High Fives Foundation is all about and the positive impact they have.
Provide an easy way for people to donate online (especially with recent events being forced to cancel).
Make it bold, fun and energetic, giving it a true sports feel.
Strategically lay out their content to help solidify them as the leader of education and recovery of life-changing injuries in outdoor sports.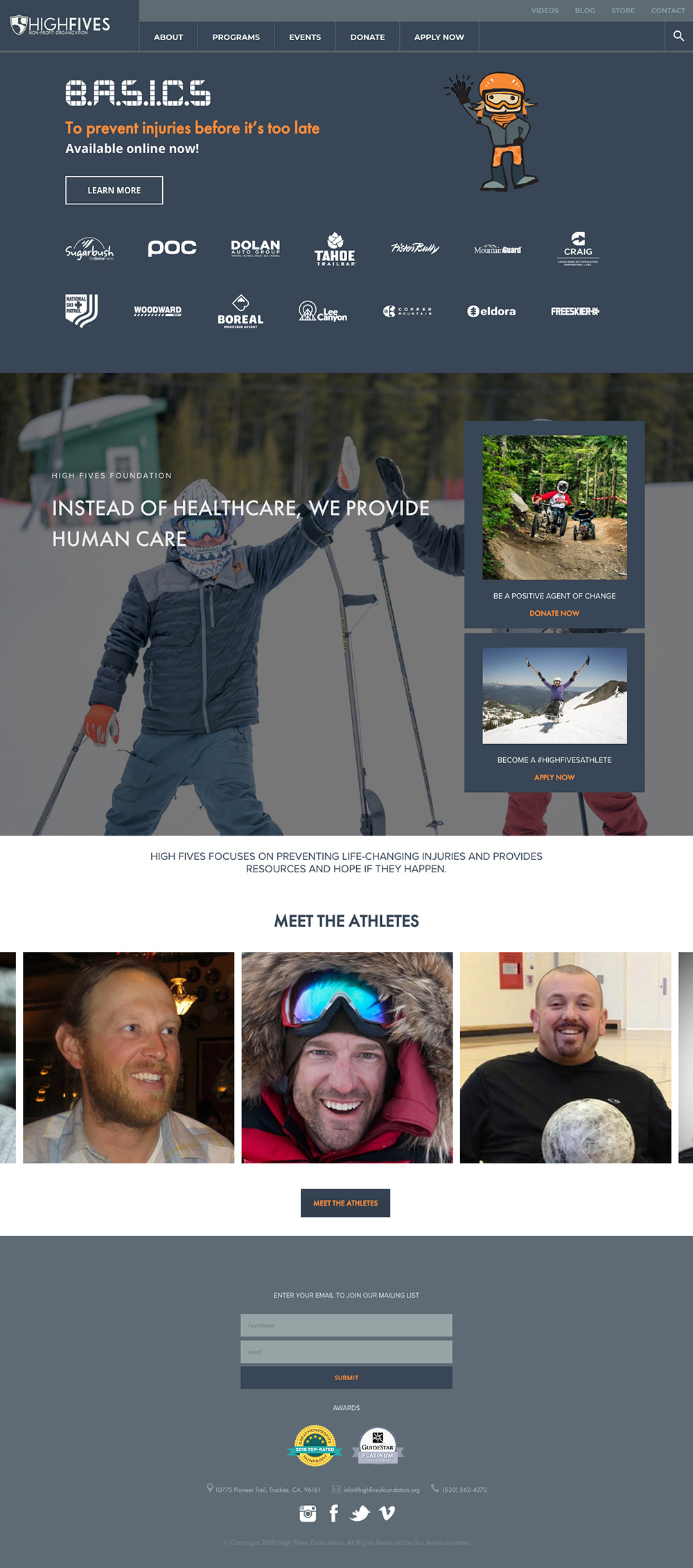 ---
3.) Heartline Ministries
Heartline Ministries snagged our hearts. We admire their mission of creating healthy, thriving Haitian families through a holistic approach that focuses on: maternal care, education, economic opportunity, and outreach.
When designing, we wanted to:
Create a bright and clean design
Use powerful images that users can connect with
Provide an easy way for people to donate online; displayed near the top so users can't miss it
Strategically added in more content on the home page for users to learn more about Heartline Ministries and how you can help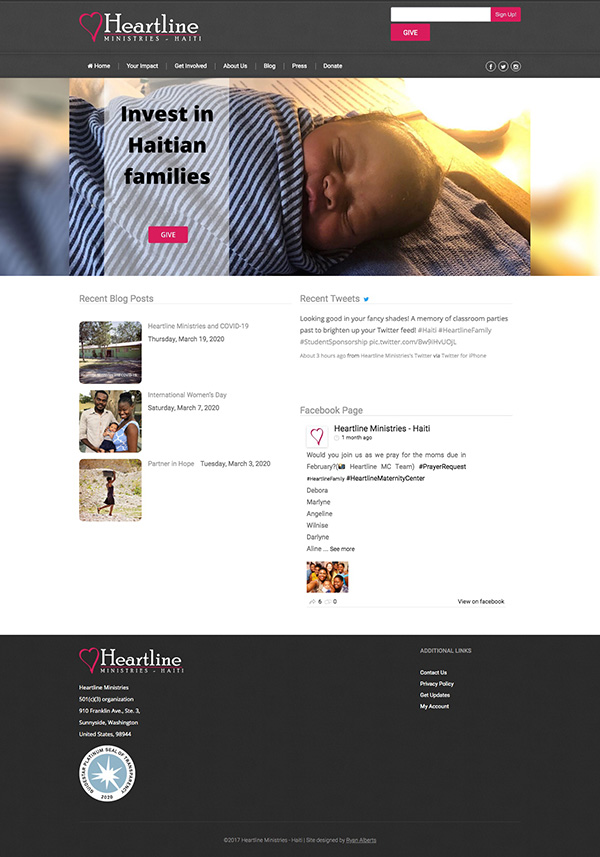 ---
4.) Hindu American Foundation
The Hindu American Foundation came to us ready for a fresh design. The organization, in summary, educates people on Hindu Americans, advocates for policies that enhance the wellbeing of Hindus, helps help empower Hindu American communities and partner institutions and much more.
Throughout our redesign, we were able to:
Utilize a slider in the hero to highlight a several important topics/stories
Incorporate a newsletter pop up to encourage more people to sign-up
Showcase all the ways to get involved
Improved organization of content and overall layout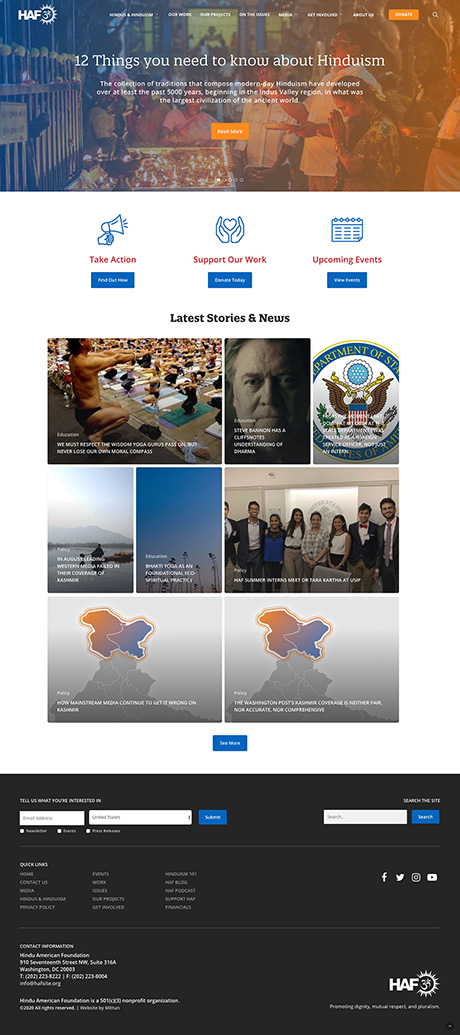 ---
5.) Life Moves
Life Moves was ready and willing to update the design of their website. They had a lot of dead pages, broken links, unorganized content and flow, and overall a difficult user experience for all. We were excited to help this organization get back on track with a beautiful new website with a user-friendly experience.
Throughout our redesign, we were able to:
Clearly showcase what Life Moves is all about with a bold impact statement up top
Highlight their services and ways to get involved on the home page
Created a more strategic layout of information
Organized all content and the flow of their website to enhance the user experience