After everything that took place in 2020-2021, it is not an understatement to say that fundraising for food banks and nonprofits was forever changed. So many incredible organizations pivoted their donation experience to survive the pandemic and ended up setting new norms for fundraising methods.
With 2022 literally right around the corner, the virtual tools and new methods are continuing to be utilized but not without some updated takes. Take a look at what social sector experts predict will be fundraising trends in 2022.
More flexibility in giving methods will result in more generosity.
The ability to adapt to the ever-changing situation was a strength every nonprofit needed in 2020 and 2021. While it might be tempting to settle into patterns and hope for a status quo for a while, continuing to adapt with the changing environment will be necessary going into 2022. But instead of focusing on how the pandemic is shaping life, we can focus on how innovative donation options will drive the industry.
Here are a few donation options that may not have a ton of traction right now, but will likely jump on the scene in a big way soon.
Digital Wallets
By automatically populating payment information on a donation form (maybe even through a secure facial recognition feature), you reduce the effort it takes for a donor to make their donation.
Hybrid Everything
There are plenty of people who were thrilled when in-person events came back. And there were others who had become accustomed to a virtual way of life. Offering both is here to stay.
Cryptocurrency
The cryptocurrency marketplace is worth over $3 trillion with over 100 million users. Only a few hundred nonprofits are currently making this donation option available, but it is expected to skyrocket over the next year.
Venmo
It is more than just an app; it's a verb. And while it has primarily been used as a peer-to-peer money transfer app, nonprofits are meeting their donors where they are and beginning to accept Venmo donations.
Donors will be empowered to personalize their own experiences.
One big event of 2021 that no one could ignore was Apple's privacy updates. This changed the way brands are able to track consumer engagement and much more. And since privacy is a priority for the vast majority of consumers, it is likely that more companies will follow Apple's lead.
Again, this means nonprofits will have to adapt the ways they connect with donors and how they reach them. Instead of trying to collect information behind the scenes, the focus will shift to letting the donors choose how their information is shared and how they would like to be engaged with. But instead of seeing this as a loss of data, consider this a way to empower your donors.
By collecting data first hand from the donors via forms, surveys, and other forms of communication, nonprofits can personalize their donor journey based on intent, phase of life, and communication preferences. For so long, the marketing funnel has been based on generational preferences. Now nonprofits can base it off so much more and develop strategies for the specific segments of supporters.
Events will be enhanced with technology experiences.
With hybrid events, causes will continue to be able to reach far beyond their own city. But even in person, technology will drive unique experiences to shape the way they engage donors and attendees.
Here are a few of the innovative technology experiences that nonprofits will take advantage of in 2022.
This is being dubbed "The Experience Age," and NFTs certainly fall into that category. Expect to see digital art making waves at nonprofit auctions in 2022.
Auctions become something totally different when donors can bid and track on their phones. And it also means an increase in how many people participate and donate.
Ok, not exactly a new technology. But donors have made the switch from feeling like texts from a nonprofit or business are intrusive to personalized.
Tech will pave the way for entirely online fundraising.
For many donors, they don't know any other way to donate than via an online form. But there are still over $400 billion of offline donations that need to be processed by nonprofits every year. As more forms of technology become available to smaller organizations, they will be able to save both time and resources, leaving more time to the mission.
While ACH donations are nothing new, they are under utilized. But check writing donors could be turned into monthly ACH donors, increasing their annual gift and reducing the hands-on requirements.
QR codes fall in and out of fashion, and 2022 will be the year they come back into the nonprofit world to offer targeted experiences.
Set it and forget recurring donations will become more and more prevalent with new ways to track and nurture those donors.
Corporate Social Responsibility will be a driver for nonprofits.
There is an overall heightened awareness of many causes. Combine that with the Great Resignation and the need for people to find more purpose in their lives, businesses can use Corporate Social Responsibility (CSR) to boost their business and keep their employees engaged and fulfilled.
Approximately $5 billion is raised through workplace giving each year, and by teaming up with great nonprofits, that number could be even higher in 2022 and beyond.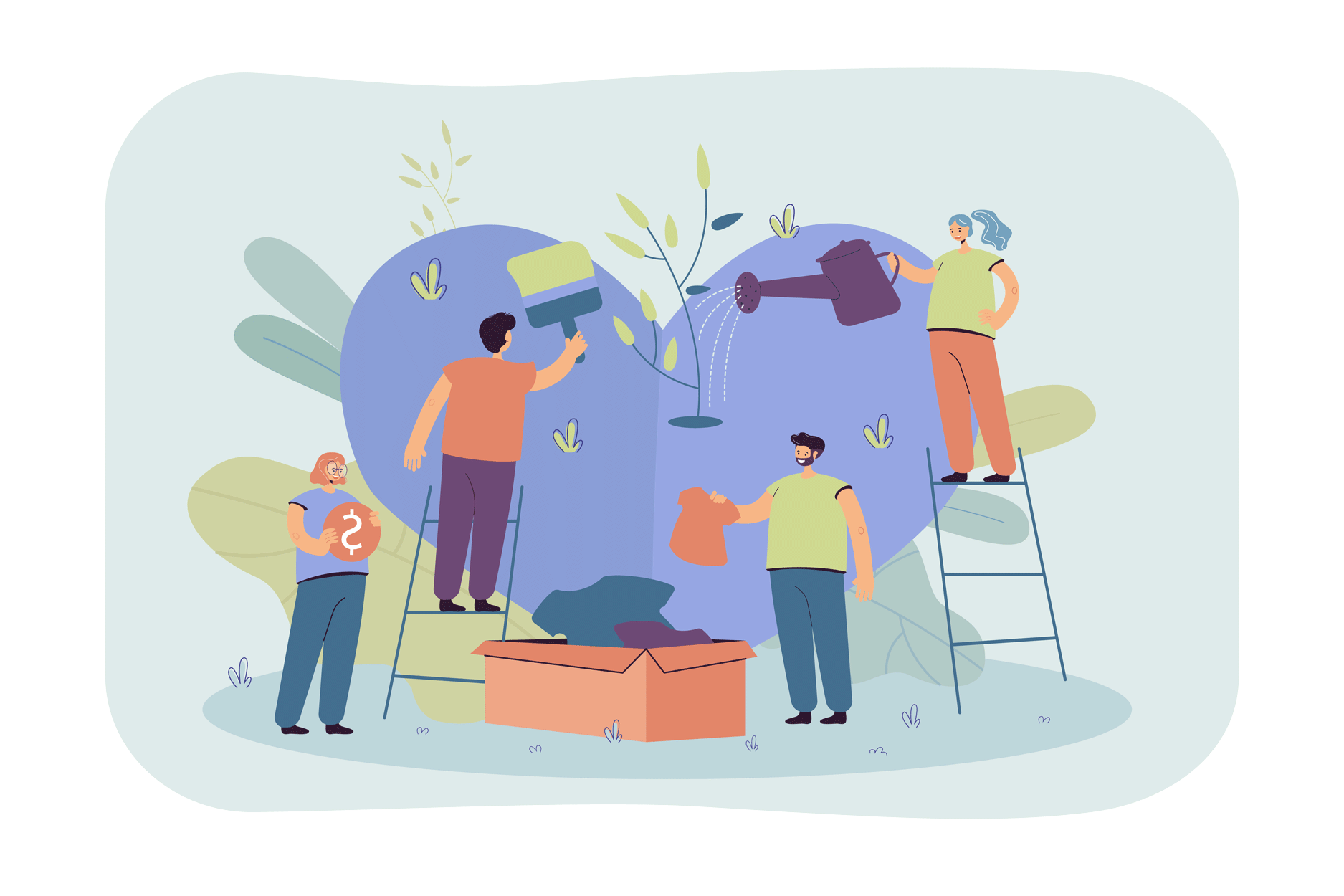 The Future of Fundraising
If we had to sum up the nonprofit and food bank fundraising trends of 2022, we could do it in just a few words: agile technology that prioritizes personal connection. Giving donors more choices will help them feel fulfilled and heard, and ultimately lead to a deeper relationship with the nonprofit and greater generosity. While it may seem counterproductive to deepen a donor relationship with technology, an adaptable and flexible online experience leaves more opportunity for the nonprofit team to strategize and connect offline.
Of course, there is no way of knowing exactly what the future holds. But Mittun does the research to get a grasp on trends, and keeps an open mind so that we can quickly mobilize whatever resources and technology will create the most good. With enterprise website management for food banks and nonprofits, Mittun is your partner in it all: marketing, design, ad management, website solutions and more.
Is your nonprofit or food bank ready for 2022?
Contact Mittun for a free assessment today.